Well this was a super fast knit. I used Rowan big wool in color Tricky.
I used the red KK loom and the pants took about 1 hour and the hat about 20 minutes because I had to stop a couple of times for life.
Here they are.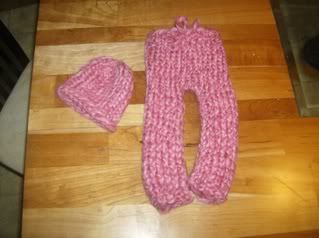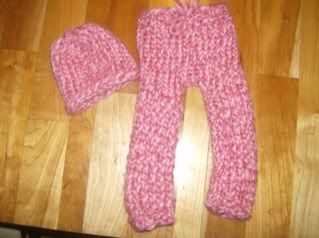 and a pic of the yarn I used
Ok So here is what I did.
I took the red KK loom. and I cast on 14 stitches then I used 2 by 2 ribbing .. thats knit 2 purl 2 for 4 rows.
then I just knit a flat piece for 25 rows using the ewrap, measure the infants leg.. i just guessed at the row number for newborn size. I cut the yarn and left it hanging in the middle of the loom.. then I skipped to pegs and cast on another 14 pegs (you should have two empty pegs on one side and one on the other) so then do another 2 by 2 ribbing for 4 rows. then another flat piece for 25 rows. using the e wrap. then I did NOT cut that yarn. I simply started knitting in the round along the whole loom even the pegs in between that where bare. I knit for 14 rows then started doing my 2 by 2 ribbing for the waist. I did this for 4 rows. then I used the super stretchy bind off. and seamed up the legs and crotch. and voila! wool longies.
then I just used the small blue loom to whip up a hat really fast.. this hat has NO brim I think it is less then 20 rounds though.
Good Luck!