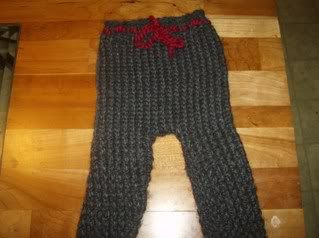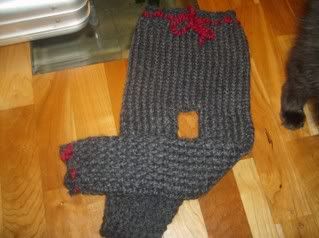 these are about a 18-24 months in size
materials:
Green knifty knitter round loom. 2 balls of wool yarn for longies... or regular worsted weight yarn for leggings. knitting tool of your choice and a tapestry needle.
leg number 1:
using two strand held together,or 1 strand of thicker yarn cast on 16
pegs and knit
2 x 2 ribbing
for 6 rows. 2 by 2 ribbing is simple.. Start first 2 pegs in the knit stitch next 2 pegs are purls next 2 are knits .. continue knit 2 purl 2 through the rows for 6 rows. then just e-wrap and knit for a flat panel, You want to measure your child's leg. I used 45 rows for this.
Now when you are done the 45 rows cut the yarn but don't bind off.. leave the yarn tail in the center of loom.


Leg number 2 :
move over 2 peg 16
pegs and make a second leg. when you have the desired number of rows, don't cut the yarn.. just start knitting in the round the whole loom even the pegs between. With the green loom you should have 2 empty pegs on either side, just knit them too. I knit about 25 rows. if you need to measure your child's rise that will help you too.. measure under the crotch to waist.
waist:
knit another 4 rows of 2 by 2 ribbing. remember thats knit 2 purl 2 all the way around the loom.
I binded off using a stretchy bind off method used here: http://yarngear.com/looms/tips.htm
It seems hard but once you get the first 2 or 3 its easy peasy.
I took red yarn with my tapestry needle and just weaved it in the waist and legs.. and well done a pair of longies in as little as 2 hours, especially if you knit faster then I do. This took me about 3 and a half hours.