On One of my many many looming groups, someone brought up finger knitting. I love to finger knit.
So when I have just one skein and sometime, or when I am stuck somewhere without my yarn tools... I finger knit..
Yes the finger knitting your grandma or mama taught you.
So Simple but so fun, and useful,
For anyone not knowing how to finger knit... grab some yarn scraps and try it.. its a fun thing to learn and teach....
Here is an instruction page on how to finger knit.
http://yarnlady.com/newsletter/2005/endaugust2.htm
Yes its that simple.... easier then any knitting or yarn craft out there.
Little boys can do it, little girls can do it, they can use there imaginations on what to make, a thin fashion scarf?, a cowboy lasso, as much fun as playsilks and more rewarding because they made it themselves ... Christmas presents for everyone!
And adults can do it to pass time on the plane or anywhere! I do it in bed when I am awake with my daughter or puppy.
Here is last nights finger knitting Goodness
purdy feathery belt. thing and fanchy smanchy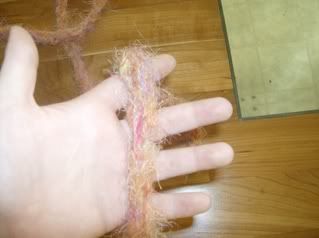 And a long coloful rope? Its made out of Lion Brand Jiffy.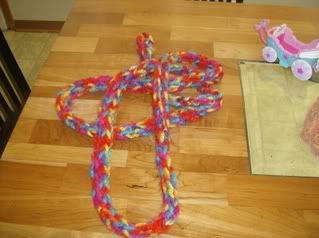 And I have a very close friend Who has the sweetiest little baby girl in the whole word. And Little Emma is going to be a cute little punk, in her Mohawk hat.
This is roughly a size 6 months... It was made on a red kk loom, I did the box stitch for the brim then just e wraps. I hope you like it.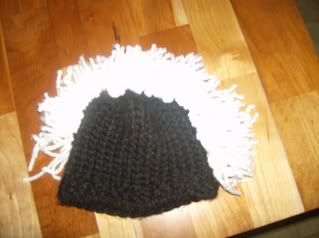 I am now making an adult one... I think I will start with a half brim to make it more like a knit head mohawk hat... who knows.